NAWD Tests are all about making Western Dressage more accessible for everyone!
All levels may be ridden in a large (20 x 60m) or small (20 x 40m) court.


NAWD tests are designed for people working at home, many of which do not have access to a large arena (20 x 60m) and instead can set up the small court.


NAWD Western Dressage Tests are judged under the NAWD Objective Judging Scale. This scale provides consistency and uniformity across NAWD Six Feet on the Ground, Western Dressage, NAWD Dressage on a Dime, Ranch Horse Western Dressage, and NAWD All-Around Freestyle.
You might ask--"How is it possible for NAWD to provide consistency across these different categories?"  It IS possible because although the tests are different, we have connected our judging system to the training scale, which we believe that; when combined with a solid understanding of equine movement and bio-mechanics,  provides the foundation for all horsemanship activities.
The NAWD Objective Judging System does not replace the FEI judging program.  Rather, it provides more detail for the rider regarding what they need to do to receive a score.  This system demystifies the judging process and ties the word meanings of the numbers directly to the training scale.
NAWD Tests are carefully designed to be progressive -
6 Test (instead of 4) for each Level, which carefully build on the last. We recommend that you ride all of the tests within each level  in the order that they are given.
Judges for the NAWD Tests in the virtual shows are allowed to rewind and are encouraged to provide an in-depth analysis in the comments of the scoresheets.
NAWD tests are optimized for video testing. A little bit shorter while maintaining strict dressage guidelines, they are faster to upload for submitting to the virtual shows.
Do you have questions about this program? Jen Johnson will be glad to answer them.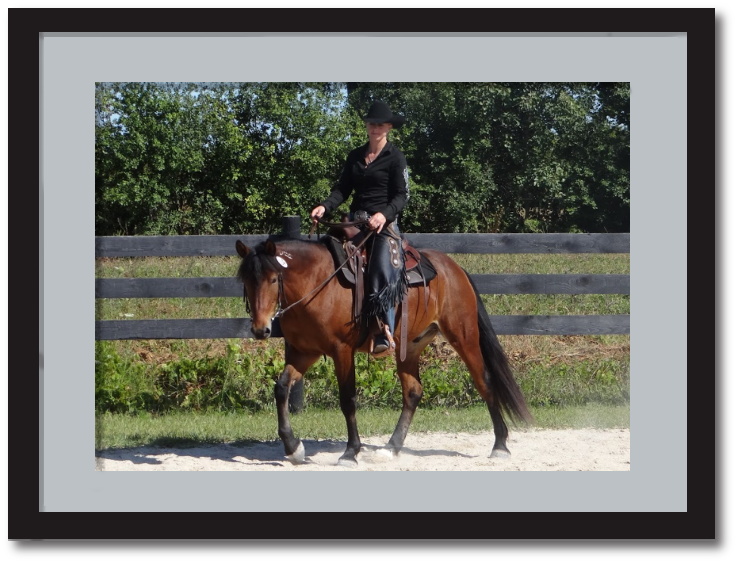 Foundation Level (Intro):
An introduction to the discipline of dressage
Rhythm, relaxation, and freedom of movement are key
An elementary attempt at bend and balance is shown
Basic acceptance of the aids, obedience
Progression (Basic):
Tests incorporate movements that further develop suppleness and balance
Rhythm, relaxation, and freedom of movement are key

Balance, Straightness, and Suppleness are developing

Horse shows greater acceptance of the aids and less resistance to the bridle
Connection (First):
Tests incorporate movements that develop connection as energy from the hindquarters travels through the back & to the bit
Rhythm, Relaxation, Steady Tempo

Consistent Bend and Balance

Straightness, engagement, & impulsion are developing

Energy flows from engaged hindquarters through a supple back to a soft, steady connection to rider's hand
USEF/WDAA tests are also included in our large class list.
You can find those tests here: