NAWD/FOSH Programs for your Gaited Horse:
NAWD and FOSH - Partners for the gaited horse.
North American Western Dressage (NAWD) and Friends of Sound Horses (FOSH) have entered an Alliance Partnership to promote the benefits of training with classic Dressage principles for gaited horses that respects the uniqueness of each gaited breed and the similarity between gaited breeds.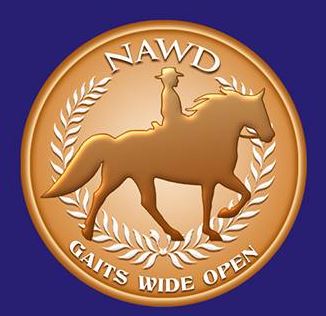 FOSH is pleased to sponsor the ONE TO GET READY/ONE TO SHOW Coupon in 2018!
This coupon entitles you to the following 2 items:
1.  Use your first coupon code to apply $25 to Get Ready
Enter any 2018 NAWD Virtual Show offering Gaited Dressage (Check the calendar on the home page) or submit a 24/7 Gaited test for judging outside of a show.  If entering a show, office fees, additional tests, or non-member fees are your responsibilitity
2.  Use your second coupon code to enter the 2018 Gaits Wide Open virtual dressage show sponsored by FOSH.   
Office fees, additional tests or other ancillary fees beyond the one free test are the responsibility of the exhibitor.  Videos tests must be recorded/submitted between October 1-15, 2018.
IJA tests
The IJA Manual for Dressage with Gaited horses recognizes the individuality of each gaited horse.  Based upon traditional training principles and progression, IJA Tests allow the gaited horse to shine!
Other Dressage Tests -
The IJA tests are the preferred tests for the October Virtual Gaited Show. However, these other programs are also on the Class Lists for our competitors: